Our Story
New location...new name
but it's still us...Marty and Liz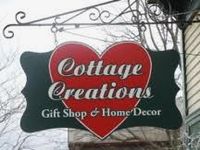 ~~~~~
From Cottage Creations,
to now... Isabel's Journey !!
And who is Isabel you ask?

A little birdie whispered the name in my ear !!!

None of our daughters, nor daughters-in-law,
not even our grand-daughters have that name...
therefore, no bad feelings to put us to shame!
Just an Angel that my Marty bought me years ago,
Isabel we named her, because I loved her so.
She carried us in our business, on her wings we flew,
through headwinds and sunshine, just to name a few.
Now we've landed in a space we love, and adore,
and promise to share our smiles for ever more.



For the past 15 years as Cottage Creations,
we have taken pride to offer the best customer service,
hospitality, and a selection of gift items and home décor to fit any budget.
As "Isabel's Journey", we strive to make it even better !!
we invite you to visit with us,
as you may find something your heart loves enough to take home.

Be a part of those who felt...." I came as a stranger...but left feeling like a friend"

It is our destination that will make your journey worth the trip !